Bike Racks
Something as small as a bicycle rack can have a huge impact for any commercial or public building.
With an increased focus on greener forms of transportation, bicycle usage is increasing. Finding ways to accommodate bicycles is becoming an essential part of any building design.
Some benefits of properly designed and installed parking bike racks include:
Aesthetics: Without bike racks, bikes are often parked in walkways, against trees, along railings, and in doorways. This not only makes the front of your building look cluttered, but it can also be a safety hazard and can damage other fixtures and landscaping.
Bike rack design has also become more innovative over the years. Some of our commercial bike racks are not only functional, but also beautiful. There are a wide variety of types and styles to choose from.
Environment: One of the main reasons people choose not to bike is because they don't have a secure location to park their bike. Providing bicycle racks helps encourage biking as an alternative form of transit—it is a simple and effective way to help protect the environment.
Buildings can also often qualify for a LEED credit when they provide secure parking for bicycles outside their building entrance.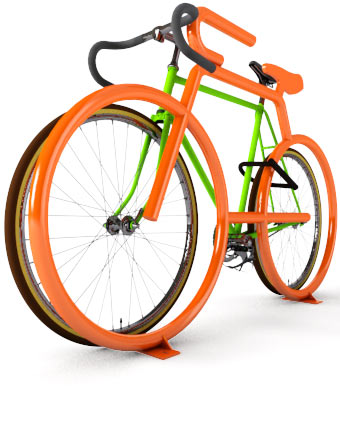 Decrease Parking Expenses: By encouraging biking, businesses can decrease congestion and free up more parking spaces. This is especially helpful in heavy populated areas like Downtown Salt Lake City. Bike shelters or bike lockers are especially useful for residential housing where tenants are looking for secure, overnight bike storage. And not all bike parking has to be outside. Many buildings choose to install racks in a bike room or in parking structure. There are a variety of bike racks that can help make the most out of a tight space.
Commercial Bike Rack Manufacturers: