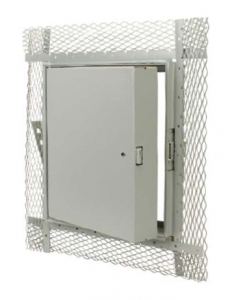 You can mount many metal access doors in all kinds of materials such as drywall, wood, masonry, and concrete. However, certain applications require specialty doors.
Fire Rated Access Doors
Code requires these doors whenever access is needed in a fire-rated wall. These access doors are steel and can fit in drywall, brick, concrete and more.
Airtight and Watertight Access Doors
If your door will be in close proximity to plumbing or HVAC systems, you may want it to be airtight and watertight. This type of door is a requirement for many operating rooms, hospital uses, laboratories, clean rooms, and more.
Exterior Access Doors
Doors and hatches that connect a building with the outside world require insulation and weather protection, so exterior access doors are the standard. But when an access door must allow an entire person into a basement or onto a roof, this requires additional features for safety and security. Access hatches often include drainage troughs, caution markings, locks, gaskets, and include the most durable finish materials.
HVAC Ducting Access Doors
Constructed of galvanized steel, this type of access door is created specifically for HVAC applications and make making it simple to reach dampers and other components. Look for upgraded features like knock-over edges, locks, gaskets and viewports.
Cannon Sales provides a wide variety access doors for every use, all built to the highest specification rate. We have fifty years of experience serving the construction industry and can help you select the right access doors for your project.